Business Description
– We plan, develop, and manufacture bento,
delicatessen, desserts, and other daily items
Our group operates six factories located in Nagano, Niigata, Shizuoka, and Yamanashi Prefectures and delivers bento,
delicatessen, desserts, and other items to approximately 1,250 stores belonging to the Seven-Eleven convenience store
chain. We showcase the culinary culture of each area by using local ingredients and cooperating with local makers, which
allows us to create highly popular products.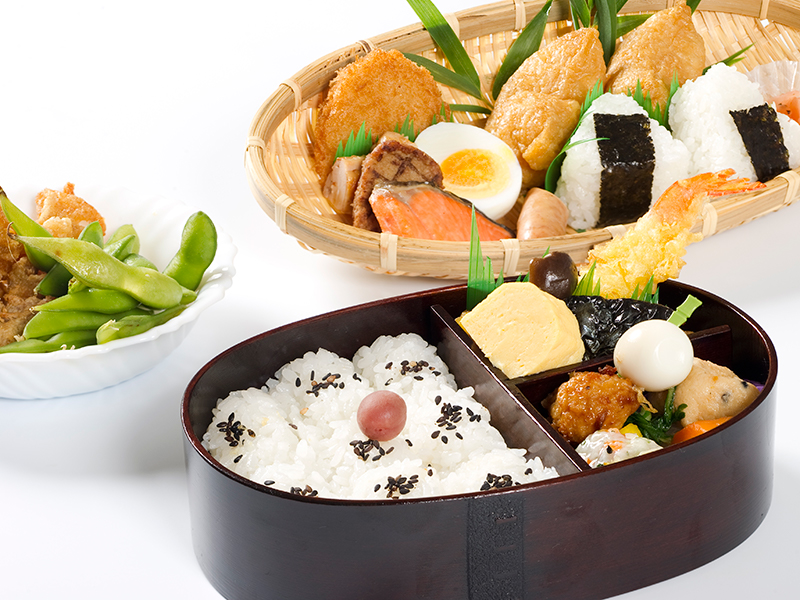 Bento and Rice Balls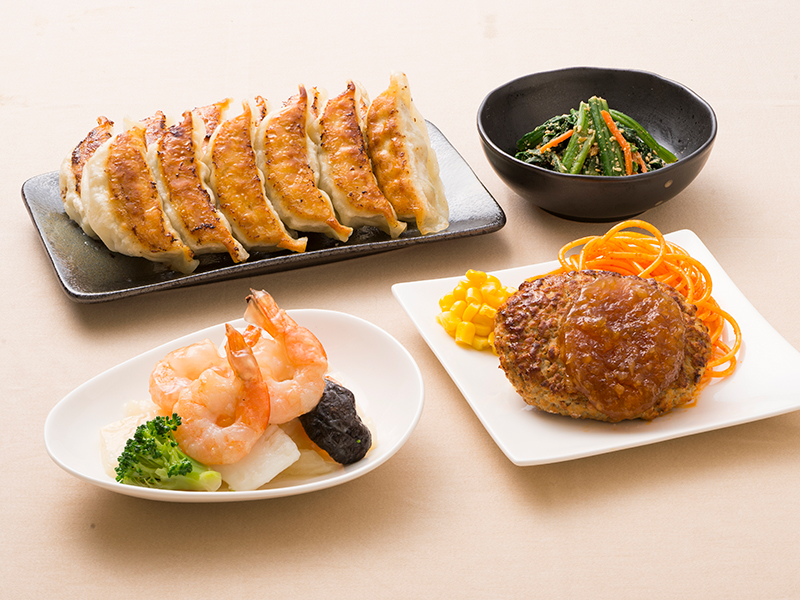 Japanese, Western, & Chinese Side Dishes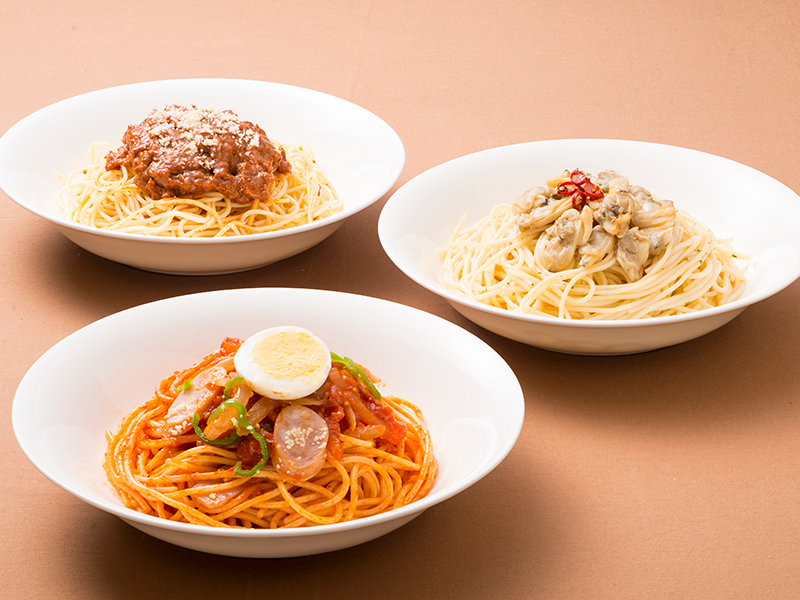 Pasta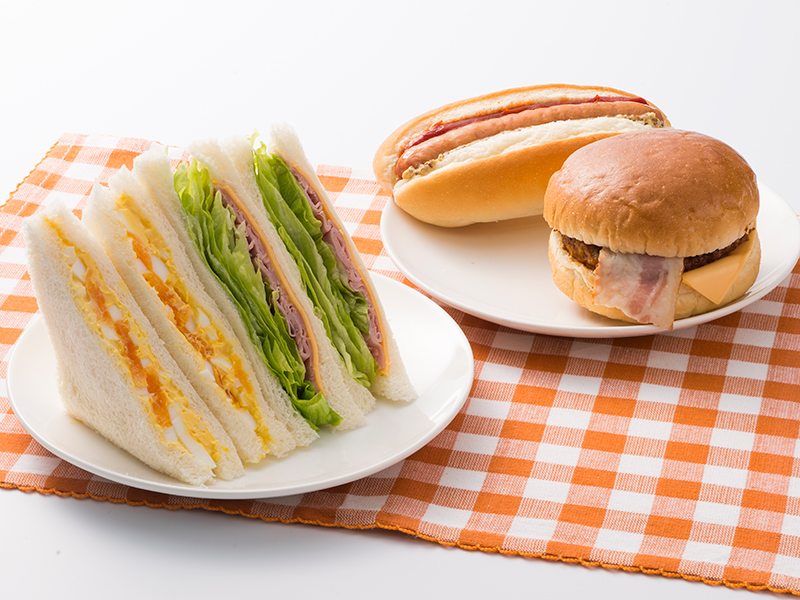 Sandwiches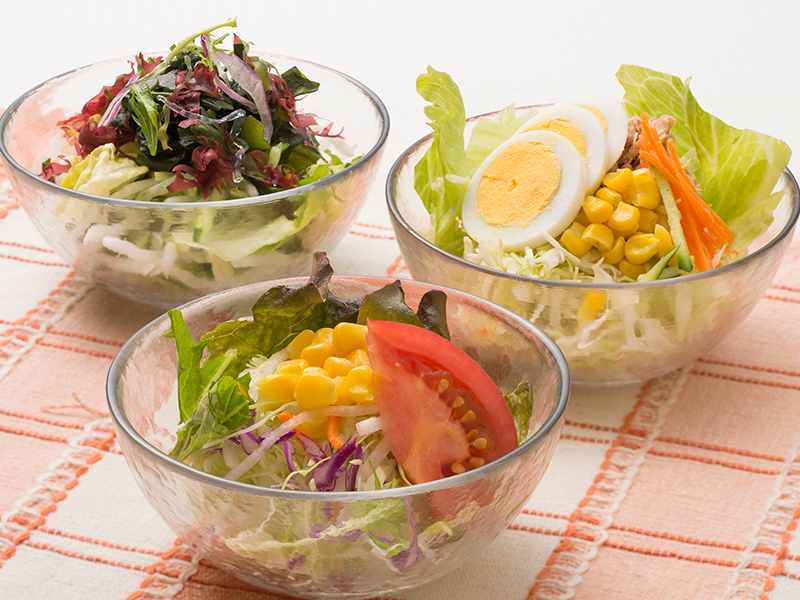 Salads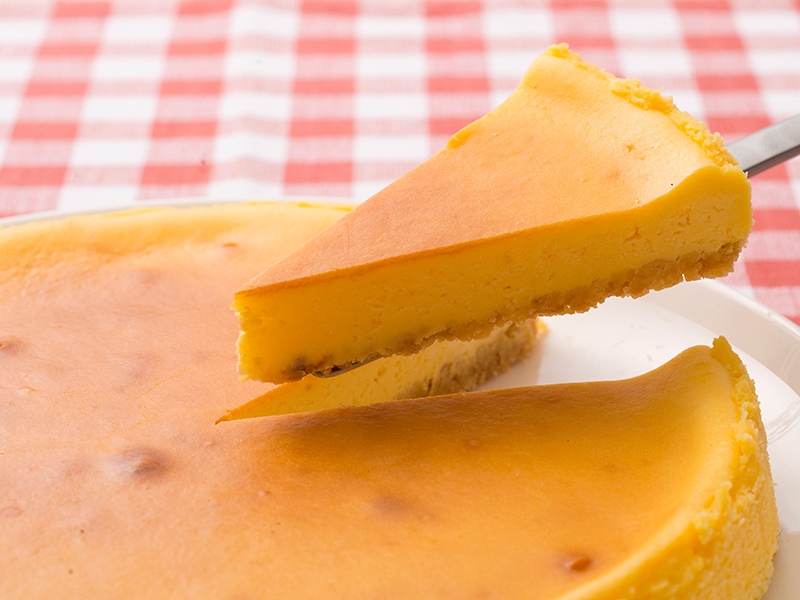 Dessert
The Streamlined Equipment
We make use of the latest equipment to ensure that we can provide safe, healthy, and delicious products.
Completely automatic single pot rice cooker (rice cooking factory):
An average of 22 tons of rice are cooked every day.
Rice ball line:
An average of 120,000 rice balls are produced every day.
Electric fryers, pasta line, IH cookers, jet ovens, and hot mold machines
Corporate Social Responsibility
Our corporate philosophy has always been to create a company that will serve a society for the people. From this philosophy, we commit ourselves to following laws and social norms that respect human rights, consider environmental measures, elevate working environments, and contribute to society.
Respecting Human Rights
We respect the rights, individuality, and diversity of all employees, as well as provide a helpline, promote awareness,and offer training all in the aim of stamping out harassment and discrimination in the workplace.
Environmental Initiatives
We comply with Eco Action 21 in order to save energy and resources while reducing waste. We have also established our own Management Criteria based on laws related to the streamlining of energy use with the goal of reducing the converted amount of crude oil used by 1% every year.
Working Conditions
We are committed to creating a workplace conducive to our employees comfortably and efficiently getting their jobs done while eliminating long working hours and increasing the rate at which paid vacation is taken.
Social Contributions
We respect the local culture and customs of our premises and wish to use our corporate activities to contribute to the development of local communities.
Company Overview
Company Name
Hayashiya Co., Ltd.
Head Office Location

4010-28 Wada Minami-Nishihara, Matsumoto, Nagano 390-1242 (located within Matsumoto Rinku Industrial Complex)

TEL: 0263-48-0255 (Hayashiya)
TEL: 0263-48-1611 (Daily Hayashiya)
FAX: 0263-48-1610

Founded
May 1964
Capital
83 million yen
Sales
¥17,775,470,000 (as of March 2020, groupwide)
Representative
President and Representative Director: Kazuo Iimura
Vice President and Representative Director: Kazuhito Akahane
Employees
1,690 (309 full-time employees, 1,381 part-time employees)
Business Description
Planning, development, and manufacture of bento, delicatessen, desserts, and other daily items, and also planning,
development, and manufacture of delicatessen included in the Seven Premium brand line of goods.
Main Client
Seven-Eleven Japan Co., Ltd.
Company Locations

Head Office

Matsumoto, Nagano

Factories

Hayashiya Co., Ltd.

Yamanashi Factory (Chuo, Yamanashi)

Daily Hayashiya Co., Ltd.

Matsumoto Factory 1 (Matsumoto, Nagano)
Matsumoto Factory 2 (Matsumoto, Nagano)
Chikuma Factory (Chikuma, Nagano)
Niigata Koshiji Factory (Nagaoka, Niigata)
Mt. Fuji Factory (Fuji, Shizuoka)
Factory Information
Hayashiya Co., Ltd.
Daily Hayashiya Co., Ltd.
| | |
| --- | --- |
| Matsumoto Factory 1 | |
| Matsumoto Factory 2 | |
| Chikuma Factory | |
| Niigata Koshiji Factory | |
| Mt. Fuji Factory | |
History
May 1964
Hayashiya Foods Co., Ltd. (current Hayashiya) established
Started operations at the Metoba Factory (Matsumoto) / manufacture and sales of delicatessen and cooked rice
May 1972
Started operations at the Nagisa Factory (Matsumoto) that specializes in tempura
March 1974
Closed the Nagisa Factory and relocated tempura specialization factory to Omiya Factory (Yono, Saitama)
September 1976
Started sales to Seven-Eleven stores in Nagano's Chushin region
April 1978
Started operations at the Miyabuchi Factory (Matsumoto)
Relocated the Hayashi Foods Co., Ltd. Head Office
March 1980
Started sales to Seven-Eleven stores in Nagano's Nanshin region
June 1980
Started sales of cooked rice to Seven-Eleven stores in Nagano's Hokushin region
October 1982
Started operations at the Josei Factory (Matsumoto)
Relocation of the Hayashi Foods Co., Ltd. Head Office
July 1983
Shinshoku Co., Ltd. established (Fuji, Shizuoka)
Started sales of cooked rice to Seven-Eleven stores in Yamanashi
October 1983
Shinshoku Co., Ltd. Fuji Factory (current Mt. Fuji Factory) established
Started sales of cooked rice to Seven-Eleven stores in Shizuoka
March 1984
Hayashiya Foods' delivery of cooked rice to Seven-Eleven stores within Yamanashi Prefecture transferred to Shinshoku
Co., Ltd. Fuji Factory
May 1986
Started operations at the Shinshoku Co., Ltd. Joetsu Factory
Started sales of cooked rice to Seven-Eleven stores in Niigata
July 1986
Kaishin Foods Co., Ltd. (Nakakoma, Yamanashi) established
October 1986
Started operations at the Kaishin Foods Co., Ltd. Yamanashi Factory (current Yamanashi Factory)
Delivery to Seven-Eleven stores within Yamanashi transferred to Kaishin Foods Co., Ltd.
March 1988
Started operations at Hayashiya Foods Co., Ltd. Koshoku Factory (current Chikuma Factory)
Delivery to some Seven-Eleven stores within Nagano transferred to Koshoku Factory
April 1991
Started operations at Hayashiya Foods Co., Ltd. Matsumoto Factory (current Matsumoto Factory 2; production transferred
from the Metoba Factory)
April 1996
Started operations at Shinshoku Co., Ltd. Koshiji Factory (current Niigata Koshiji Factory; production transferred from
Joetsu Factory)
March 1997
Changed the name of each site from "factory" to "business establishment"
April 1997
Merger of Hayashiya Foods Co., Ltd., Shinshoku Co., Ltd., and Kaishin Foods Co., Ltd.
Changed the company name to Daily Hayashiya
October 1997
Construction completed of the new head office for Daily Hayashiya Co., Ltd.
Started operations at Matsumoto Business Establishment 1 (current Matsumoto Factory 1)
Delivery of all rice cooked within Nagano transferred to Matsumoto Business Establishment 1
Matsumoto Business Establishment renamed to Matsumoto Business Establishment 2
May 2003
Niigata Koshiji Business Establishment received NDF-HACCP Certification
June 2005
Chikuma Business Establishment received NDF-HACCP Certification
December 2005
Matsumoto Business Establishment 1 received NDF-HACCP Certification
December 2006
Fuji Business Establishment received NDF-HACCP Certification
Yamanashi Business Establishment received NDF-HACCP Certification
September 2009
Matsumoto Business Establishment 2 received NDF-HACCP Certification
March 2012
Changed the name of each site from "business establishment" to "factory"
May 2012
Yamanashi Factory was made into a factory solely for Seven Premium brand goods
Started sale of "Stewed Dried Radish" under Seven Premium brand
Delivered to all areas from Hokkaido in the north to Kyushu in the south
October 2013
Started operations at Mt. Fuji Factory
Halted rice-cooking operations at Fuji and Yamanashi Factories and transferred rice-cooking operations to Mt. Fuji
Factory
Delivered areas within Shizuoka and Yamanashi prefectures
November 2013
Halted production of cooked rice at the Yamanashi Factory and was made into a factory solely for Seven Premium brand goods
May 2019
Changed the company name to Hayashiya Co., Ltd.
Established Daily Hayashiya Co., Ltd. via company split